Wines
Cinnamon Hot Shots
Hot Shots Cinnamon Wine- Out of Stock. Available February 2019
​Extremely limited supplies this year as a result of securing Ceylon Cinnamon. This Evergreen Bark is the Worlds most sought after spice and is difficult to obtain in its "Whole Form". There has never been such a product on the Market. Emerine Estates is notorious for trend setting when it comes to the wine industry.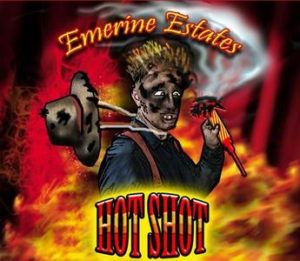 Please specify when ordering. Limited Quantities. Bottled in 375 ml. 21% Alcohol by Volume.
Bottles start at $17.49.
Ice Wine 2017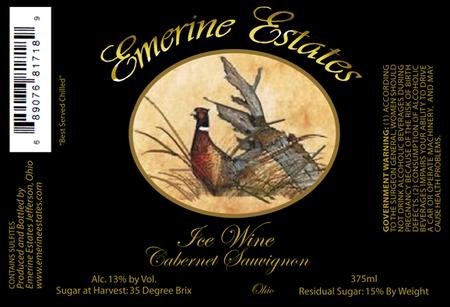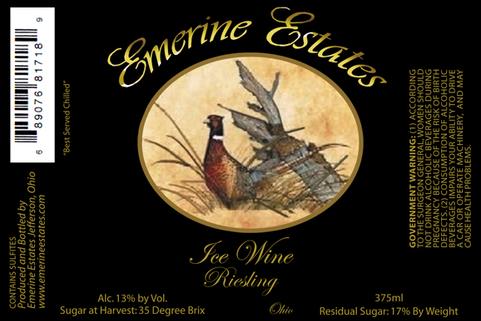 Greenhouse grown Cabernet Sauvignon and Riesling have been selected for the first of its kind. Nowhere in the world has there been an Ice Wine produced solely from Greenhouse grown grapes. Emerine Estates will pioneer the first!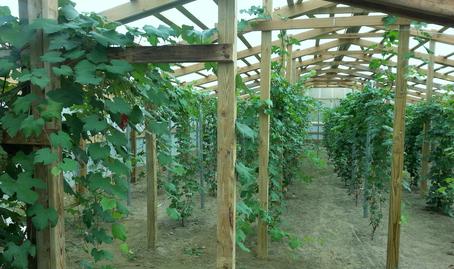 Dry Wines $19.49 per bottle
Tear Drops Chardonnay (Greenhouse Grown)
Ohio Chardonnay with notes of Butter, Smoke, Pear and Citrus. Oak aged in 2013 American Medium Toasted Barrels for 12 months. Full bodied white with exceptional mouth feel. 750ml.
Wine-Pinot Noir (Greenhouse Grown) Worlds first Greenhouse Grape 1999.
Estate grown Ohio Pinot Noir with notes of Butter and Tobacco. Oak aged in 2012 American Medium Toasted Barrels for 18 months. Full Bodied Red Wine. 750ml.
Dejavu (Greenhouse Grown)
Ohio grown Cabernet Sauvignon with a hint of Merlot. Oak aged in 2012 Standard American Oak for 24 months. Great mouth feel with exceptional balance. Full Bodied Red Wine. 750ml.
Seduction (Greenhouse Grown) Ohio's First Coffee wine. Est 2003
Ohio grown Pinot Noir with strong notes of Coffee, Mocha, Cherry, and Butter. Undertones of Vanilla and Chocolate round out this complex full bodied wine. Nude Oak aged with minimal Oak tones. 750ml.
Semi Sweets $15.49 per bottle.
Experiment 824
White wine with a twist. Exciting, crisp, fruity and bold. This wine combines the elegance of 4 greenhouse grown grapes married together for a mouthwatering experience. 12% ABV
750ml.
Experiment 831
Red wine at its best. This unique red wine combines the bouquet of 4 greenhouse grown grapes fermented to perfection. Sweet front notes with a dryer fine finish. Very confusing to the palate, is it sweet or is it dry? Your palate will decide! 12% ABV
750ml
***** Experimental wines change with the season. No 2 seasons are the same. The 824 and 831 note the dates that the grapes are picked and pressed from the greenhouses. Limited quantities are available******
Sweet Wines $19.49 per bottle
Apple X-cider
Ohio cider apples with notes of Cinnamon, allspice and vanilla. 13.4 %ABV
Blackberry Cabernet Sauvignon
Blackberries with a touch of class. 13.4% ABV
Blueberry
Blue crop and Elliot blueberries make up this complex wine. 13.4% ABV
Big Nuts Coconut
Pure coconut water fermented to perfection. 13.4% ABV
Caramel Apple
Ohio estate grown apples with a touch of molasses. 13.4% ABV
Chocolate Raspberry
Ohio Raspberries with imported cocoa beans. 13.4% ABV
Country Concord
Native Concord fermented to perfection. 13.4% ABV
Dirty Old Hooker
Fermented Lemon wine with exceptional flavor . 18-21% ABV
Hunters Cranberry
Bold and seasonal cranberries, tart and delicious. 13.4% ABV
Mango Wine (Experiment 319)
Pure 100% Mango with great mouth feel. 12% ABV
Peach-Apricot
Ohio grown with undertones of butter and spice. 13.4% ABV.
Pink
Cherry with Pinot Grigio rounded to perfection. 13.4% ABV.
Razzle Dazzle Raspberry
Ohio Raspberries both red and black with a twist. 13.4% ABV
Strawberry Shortcake
Estates Strawberries. Undertones of sweet cake. 13.4% ABV.
Tropical Paradise
A 5 fruit married wine perfect for that summer day. 13.4% ABV.​
Watermelon Wine (Experiment 424)
Mouth watering watermelon ripe from the fields. 12% ABV
Sassafras My Ass
"Sassafras My Ass" is now available for purchase!
​​New for 2017 "Sassafras My Ass" Rootbeer Wine.
By the 16 oz mug $6.00 or 32 oz take home Growlers $12.49.
Limited quantities available. Reserve yours today.
"Sassafras My Ass" is a carbonated sparkling wine served for all occasions.
Amber 32 oz Growlers come with a 38-400 Phenolic core seal to assure freshness and can be re-used.
Bring your Emerine Estates Growler back and receive a refill for $11.49/tax.
15% Alcohol By Volume; Please drink responsibly.