Hot Shots Cinnamon Wine- In Stock
​Extremely limited supplies this year as a result of securing Ceylon Cinnamon. This Evergreen Bark is the World's most sought after spice and is difficult to obtain in its "Whole Form". There has never been such a product on the Market. Emerine Estates is notorious for trend setting when it comes to the wine industry.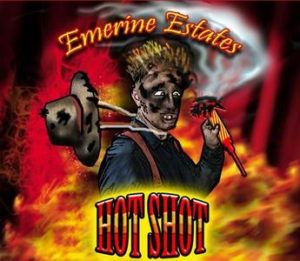 Please specify when ordering. Limited Quantities available.  21% ABV
375ml/ $17.69
Pure Cotton Candy Grapes with a touch of class. An unforgettable experience. 375ml botttle.
Dessert in a bottle. Delicious white wine with hints of vanilla cake and frosting. 375ml bottle.
White wine with a twist. Exciting, crisp, fruity and bold. This wine combines the elegance of 4 greenhouse grown grapes married together for a mouthwatering experience. 12% ABV
750ml.
Red wine at its best. This unique red wine combines the bouquet of 4 greenhouse grown grapes fermented to perfection. Sweet front notes with a dryer fine finish. Very confusing to the palate, is it sweet or is it dry? Your palate will decide! 12% ABV
750ml
***** Experimental wines change dramatically with the season. No 2 seasons are the same. The 824 and 831 note the dates that the grapes are picked and pressed from the greenhouses. Limited quantities are available******
"Sassafras My Ass" 2023 version now available.
New and improved; 18% ABV, Sparkling Sassafras Wine.
$24.00 per 4-12oz bottles in a beautiful carrier.
$8.00/12oz mug.
$8.00/Root Beer Float